Affordable Connectivity Program
You may be eligible for a

$30 per month discount off your internet bill.
Use the our mobile assistant from the Education Superhighway to quickly find out if you qualify for the Affordable Connectivity Program (ACP), what documents you need to apply, and how to connect to plans that are free with the ACP.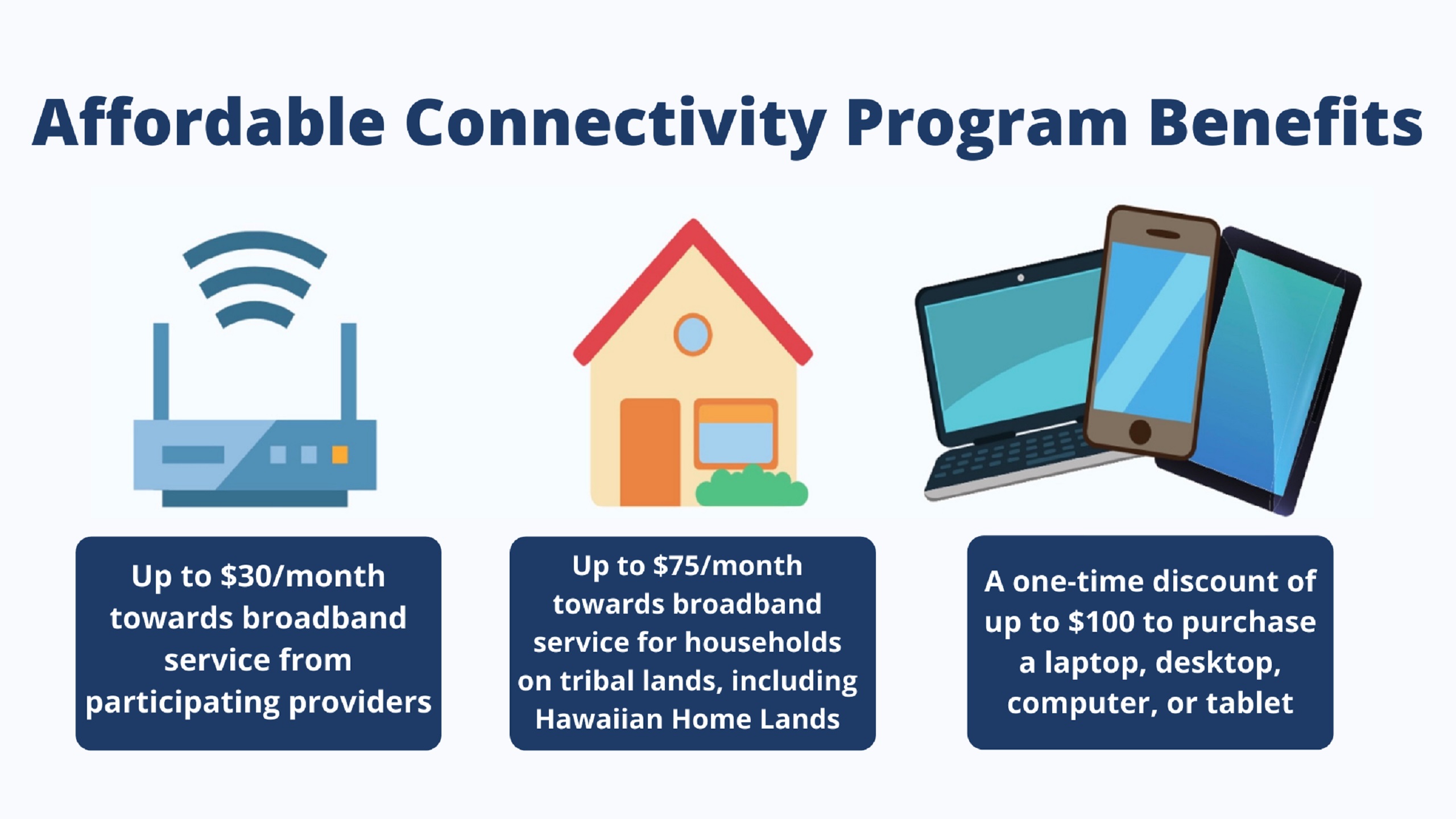 The Affordable Connectivity Program (ACP) provides a discount of $30 per month toward the broadband service plan of choice for eligible households. The ACP benefit is $75 for households on qualifying Tribal lands. Additionally, eligible households will receive a one-time discount of up to $100 to purchase a laptop, desktop computer or tablet from eligible providers if they contribute more than $10 and less than $50 toward the purchase price.
Qualify

Visit GetACP.org to quickly determine if you qualify, what documents you'll need to apply, and how to connect to home internet plans that are free with ACP.

Apply

Create a National Verifier account, providing your contact information and the form of identification stated in your checklist. Remember your username and password.

Confirm

Enroll

Select one of the plans in your checklist. Your list will contain plans that are "free with ACP" meaning they cost $30 per month or less.
Who is Eligible for the ACP?
51.6 million U.S. households are eligible for the ACP benefit. You are eligible if:
Your household has an income below 200% of the federal poverty line, or

You or anyone in your household uses:

SNAP (CalFresh)

Medicaid (Medical)

WIC

Pell Grant

Your household has a student eligible for free or reduced-price meals or attends a Community Eligibility Provision (CEP) school.

Click here to see which BCPS schools have CEP status.